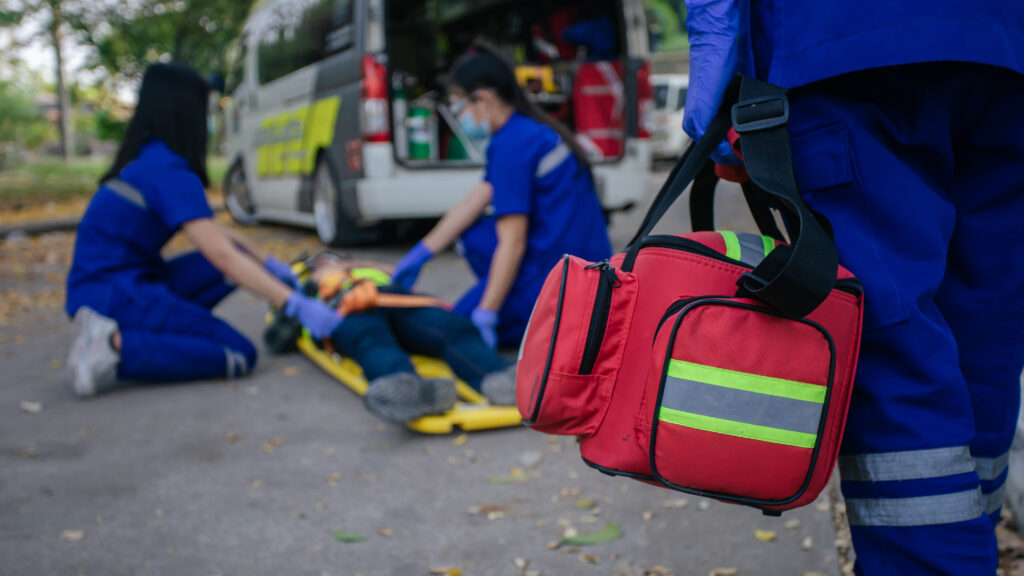 EMS Technology
The EMS Technology program focuses largely on "hands-on" training.  Students learn to operate as part of an EMS team using actual wrecked vehicles, staged injuries and theatrical blood.  These drills are completed several times a week and are as true-to-life as possible while becoming more advanced as the class progresses.
Career Fields Include:
Emergency Medical Transport, Fire & Rescue, Industrial Safety Team, and Mobile Intensive Care Technician.
Emergency Medical Services Technology  I
Credits:  2
Prerequisite:  None
Site:  DCCTC
Students are trained to render care to patients in a crisis involving anything from medical emergencies to traumatic situations. Students become proficient in patient assessment, basic cardiac life support, respiratory emergencies, medical and legal issues, allergic and anaphylactic emergencies, emergency childbirth and numerous trauma emergencies from falls, car accidents, and assault.
Emergency Medical Services Technology II
Credits:  2    
Prerequisites:  Emergency Medical Services Technology I
Site:  DCCTC
This course teaches information first responders need to provide appropriate initial care, regardless of the type of emergency. The course stresses the steps to follow in an emergency until more advanced medical personnel arrive including scene safety for the rescuer, oxygen administration and infection control. Successful completion of this course may result in first response certification available through National Institutes of Health (NIH) and American Heart Association.
Emergency Medical Services Technology III- Work Based Learning Credits: 1
Grades 11- 12 
Site: DCCTC
Prerequisite: Student must have completed EMS I & II at DCCTC as well as have a satisfactory instructor recommendation.
Students who have completed EMS I & II at DCCTC and desire work experience in the field may choose to further enhance their skills by enrolling in our work based learning course. Students will learn daily duties and participate in on-site training. Students must provide their own transportation to work sites.
"I enjoy working with students because they keep me thinking as well and they are excited about learning."
Melissa Tice comes to DCCTC from Trident Hospital where she still works on an "as needed basis" in Labor and Delivery.  She received her ADN from Trident Technical College and her BSN from Charleston Southern University.  She is currently enrolled in the Master of Science in Nursing-Nurse Educator program at Charleston Southern.