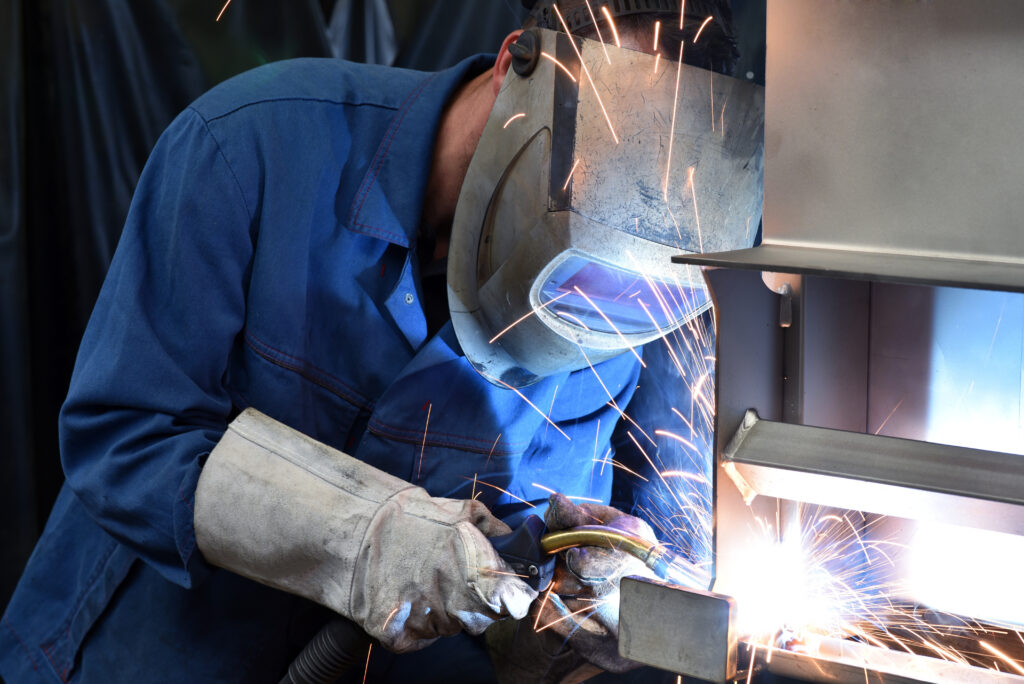 Welding
According to DCCTC welding instructors, students in this class can expect a "hands-on" course with some classroom work.  Thee says, "if you like working with your hands, getting dirty and hearing immediate feedback, then this may be the class for you." In addition to classroom projects and individual work, students participate in creating designs for the community. Students in the welding program at DCCTC are considered among the best in the area and regularly win local and state welding competitions.
Career Fields Include:
Welding, Soldering, Brazing Machine Setters, Operators, and Tenders
Welding Technology I
Credits:  2
Prerequisite:  None
Site:  DCCTC / Trolley Road

This course will help students learn basic skills in the art of electric shielded metal arc and gas metal arc.  Instruction includes cutting and fabrication processes used to produce structures such as buildings, ships and bridges. Measurement and layout procedures are introduced along with proper tool usage and equipment safety. Students should enjoy physical activity, attention to detail and doing creative work.
Welding Technology II
Credits:  2
Prerequisite:  Welding Technology I
Site:  DCCTC / Trolley Road
Students completing the second year welding program will master advanced techniques in shielded metal arc, gas metal arc, and gas tungsten arc welding. Job opportunities are available in many areas of the construction, manufacturing, maintenance, marine, automotive and aerospace industries. After completing the second year, welding students will have earned the skills required to gain entry-level employment or pursue advanced technical training.
Welding III – Work Based Learning
Credits:  1
Grades 11- 12 
Site:  DCCTC / Trolley Road
Prerequisite: Student must have completed Welding Technology I & II at DCCTC as well as have a satisfactory instructor recommendation.
Students who have completed Welding I & II at DCCTC and desire work experience in the field may choose to further enhance their skills by enrolling in our work based learning course. Students will learn daily duties and participate in on-site training. Students must provide their own transportation to work sites
"I enjoy working with young people because I get to pass on my knowledge to help them become successful."
Mr. Perry began teaching at DCCTC in 2013 and has worked in the fields of mechanics and machining for more than 20 years. He holds numerous certifications with extensive experience working in machine shops.  He is a certified welder, auto body technician, and painter.