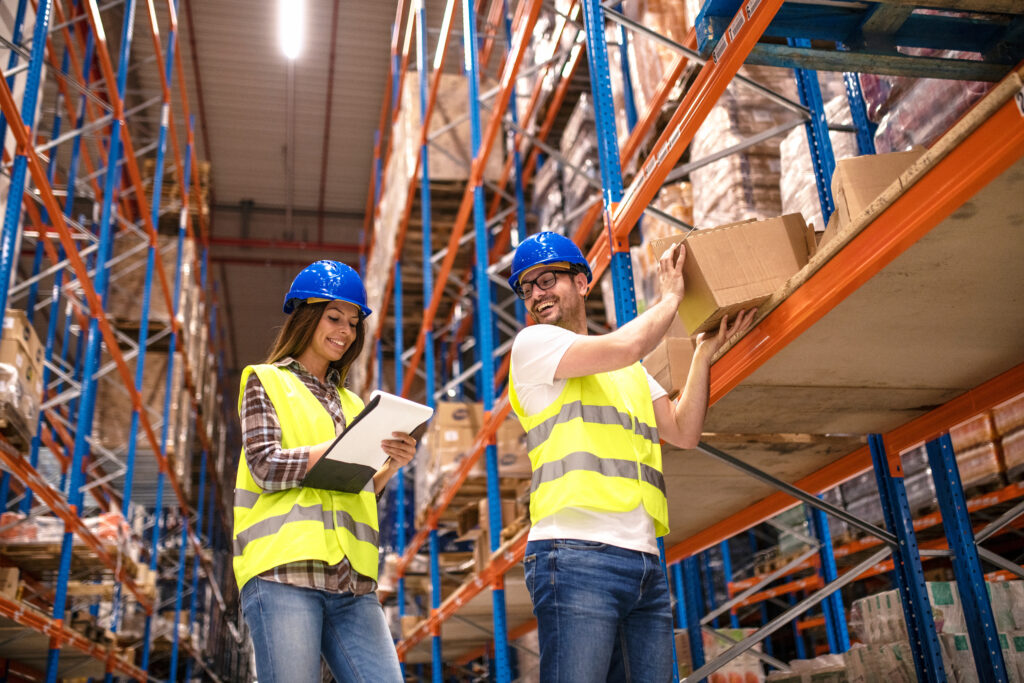 Logistics and Distribution 1 – Introduction
This course is designed specifically to provide students with essential knowledge, skills, and experiences related to career opportunities in warehouse, distribution, logistics, and transportation.  Students will learn and work in authentic environments using industry standard equipment and procedures, as well as have opportunities to obtain information through field trips and guest speakers from the respective industries.  Each of these industries has a significant presence in our area and is projected to continue their pattern of growth.  Students must earn a 75 or higher in this course as a prerequisite for higher level courses.
Logistics and Distribution 2 – Warehouse Distribution
PREREQUISITE: Logistics and Distribution 1 with a recommended 75 or higher
This course is designed to actively engage students in the process of receiving, shipping, order-picking, inventory control, and the operation of numerous types of material handling equipment. Students will acquire information and skills that relate directly to potential career objectives in the warehouse and distribution industry.  Successful completers of this course will have the opportunity to sit for either or both of the following nationally recognized industry certifications: (CLA) Certified Logistics Associate and/or (CLT) Certified Logistics Technician.  Students will have an opportunity to complete a 10-hour OSHA safety program and earn a safety credential, if successfully completed.
Logistics and Distribution 3 – Warehouse Inventory
PREREQUISITE: Logistics and Distribution 1 and 2 with a recommended 75 or higher
This course may qualify as 3 dual credit hours with Trident Technical College upon approval from the college.  This course is a basic overview of logistics management.  Logistics involves the flow of goods and services including such aspects as warehousing, materials handling, inventory control, and transportation from the raw material to the end user.  Students will begin to explore management and supervisory level aspects of the warehousing industry, including staffing, quality control, resource management, problem solving, and group dynamics.
Logistics and Distribution 4 – Work-Based Learning
PREREQUISITE: Logistics and Distribution 1, 2 and 3 with a recommended 75 or higher in all three courses
This is a program which coordinates high school studies with a job in a field related to academic or technical education standards that provides "hands on learning" in areas of student interest with a participating business.  A learning contract outlines the expectations of and responsibilities of both parties.  The student works regularly during or after school in exchange for the mentor's time in teaching and demonstrating.  The work-based experience may be paid or unpaid.  120 Hours, 1.0 credit
Possible Careers
Global Logistics Manager
Supply Chain Consultant
Transportation Director
Supply Chain Sales
Purchasing Manager
Logistics Engineer
Inventory Manager
Inventory Clerk
Production Clerk
Possible Colleges
CPCC
York Technical College
Anderson University
USC
College of Charleston
Trident Technical College
Midlands Technical College